Wedge Wire Screens: Sorting and Filtering
Wedge shaped wire is one of the most common forms used to produce screens. Not only are these screens highly customizable, but they are also adaptable to a wide range of industries and applications. These include mining, liquid filtration, and architecture to name just a few. Take a moment to learn all about how shaped wire screens can separate solids and filter liquids to determine how one may best meet your requirements.
Mining
The mining industry relies on durable wedge shaped screens to sort, filter, and process material of all shapes and sizes. This includes everything from coal and salt, to sand and gravel. Wedge wire screens are manufactured by welding individual shaped wires to support wires, and by adjusting the spacing between each wire, manufacturers can control the amount of material that passes through each slot. This configuration can separate materials of all shapes and sizes, depending on the needs of the operation.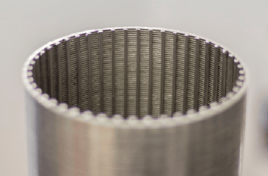 Liquid Filtration
Wedge wire screens are versatile enough to also filter liquids. Food processing industries use these screens to separate pulp from juice and wash produce, while oil and gas industries use these screens to remove contaminants and capture solids. Wastewater and water sanitation facilities even use wedge wire screens to prevent trash and debris from traveling to the ocean. Because of their customizable nature, shaped wire screens can be made with a variety of different stainless or nickel alloys to combat corrosion, abrasion, or heat exposure.
Architecture
Shaped wire screens can also be used outside of manufacturing facilities in the form of floor drains or grates. These particular screens are often made from stainless steel because it is a durable and sturdy option that also has good corrosion resistance. Stainless steel also maintains its luster with age, which can add visual appeal in addition to functionality. To browse additional material options, visit https://centralwire.com/alloys/.
For additional information about wedge wire, visit the shaped wire page on our website, or contact us. You can always reach our sales team directly by emailing sales@centralwire.com or calling +1-800-435-8317.